Featured Project
SAN DIEGO, California
A fully energized community to live, work and play.
CLIENT Kilroy Realty
COMPLETION DATE 2018
UNITS 608
DENSITY 80 DU/AC
SQUARE FOOTAGE 520,000 SF
Renderings courtesy of Studio Public
The residential component of a mixed use community provides the critical mass needed to sustain 24/7 activity by locating housing in direct proximity to shopping and working environments. Horizontal proximity integrates these essential uses supporting a sustainable, pedestrian friendly and livable environment. Ultimately, the intent is to energize the community with a variety of demographics by providing a choice in housing types that in turn creates a vibrant social fabric. The housing type will be 4 and 5 stories of housing above ground-floor amenities and parking and will consist of stacked flats and/or townhomes with a mix of studio, one, two and three bedroom units.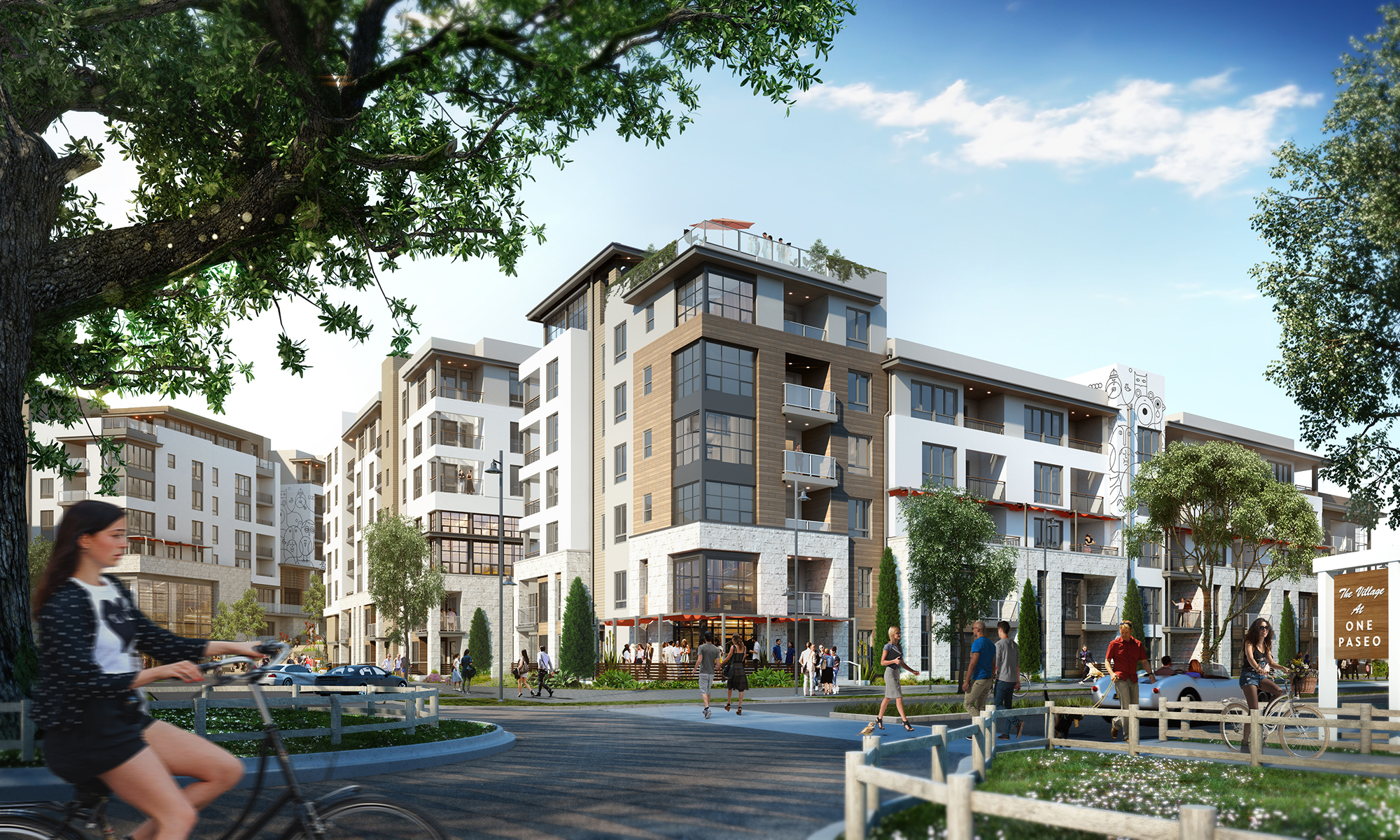 COLUMBIA, Maryland
A naturally distinctive and vibrant community inspired by the surrounding forest.
CLIENT HOWARD HUGHES CORPORATION
COMPLETION DATE 2020
UNITS 753
DENSITY 123 DU/AC
SQUARE FOOTAGE 760,767 RES / 14,500 RETAIL
The master planning evolved around the creation of the shared, linear park.The park's central location provides both orientation and a shared sense of place for all the adjacent buildings. The park is then linked to Merriweather Drive at both its east and west ends by the primary public roads which lead into the district. These tree-lined roads are designed as outlined in the Design Guidelines to be animated with retail shops and restaurants, and have generous sidewalks promoting pedestrian activity. The project embraces the naturally distinctive context of the Merriweather district neighborhood and is a truly unique collection of residential, retail, office and entertainment space located within a surrounding forest. The buildings take cheeky design inspiration from local forest inhibitors the "fox" and the "owl." Building A (the fox) a visually prominent beacon for the community and is expressive, bold and vibrant. Building B (the owl) is quiet, calming and serves as a connector to the adjacent outside public symphony. Both buildings are uniquely connected to nature, but purposely contrast each other for a more dynamic living environment.